07 Mar

7 on 7 That Damn Groundhog is Confused

About the 7 on 7 Project: Post seven photos on the seventh day of each month – a no pressure project with like-minded photo friends. No rules and no themes, just tell a story with some favourite photos from the previous month, and link to the next photographer in line. Easy and pressure-free. Enjoy!
Groundhog Day.
Honestly, what the hell is wrong with that rodent.
Winter should be over some time around July, apparently
No matter. I bought new boots and a new winter coat and headed off to Quebec with my officemates for a weekend of fun in the sun snow.
When the going gets cold,
Canadians laugh.
(that's a myth … we sit in a corner and weep)
We stayed at a beautiful resort in the Laurentides and it was postcard perfect with fresh snow blanketing most of the Province.
I could have just stayed in my gorgeous room for the weekend and been perfectly content watching the falling snow outside my window.
Perfectly content, and WARM.
It was a fun weekend, but that "fresh" snow that I mentioned ended up causing havoc everywhere and flights were cancelled all over Canada and the US. I spent an extra night in a not quite as nice room beside the airport, but eventually made my way home, none the worse for wear.
And apparently, we had gotten a bit of snow at home too.
It's been a crazy month though, and all of that snow quickly gave way to warmer temps.
(which also gave way to flooding and chaos, but whatever … warmth!)
Sunshine, sweet sunshine.
And then, one morning last week, I discovered I had my OWN personal Groundhog and that he too is as dumb as his weather-predicting cousins.
Or is he.
The snow is gone. The other day I didn't have to wear a coat. The snow is GONE.
Craziness.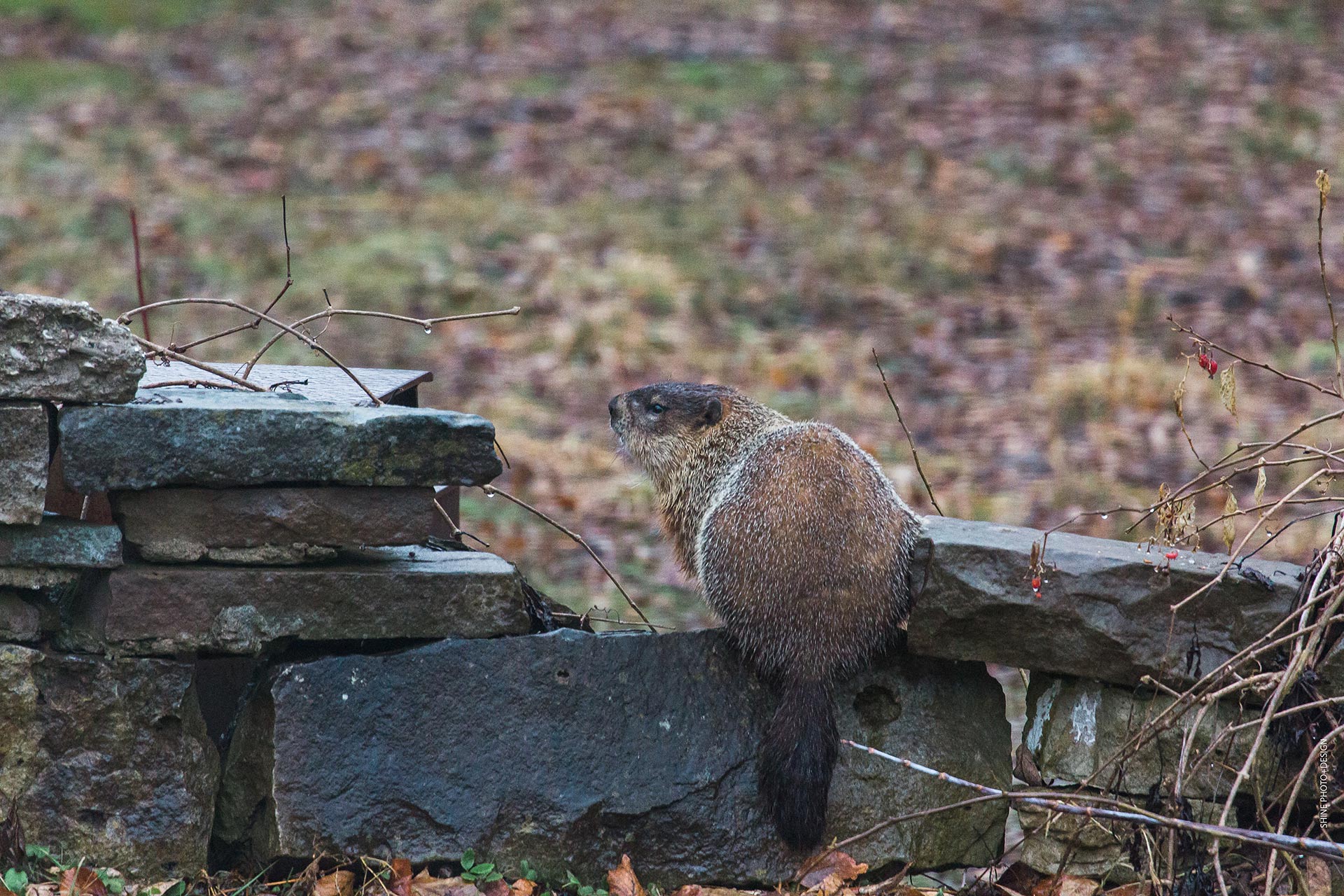 As I type this though, it's beginning to snow.
Figures.
And that concludes your February Weather Update (what a snorefest – honestly, are you even still awake? my deepest apologies for this half-ass post). Tara is up next in our photo circle, so go pay her a visit and tell her I said hi. She's infinitely more interesting than this, I promise, AND extremely talented.
Go. Now.