02 Jan

One Little Word for 2013

Each year since 2010, I forego making the traditional New Year's Resolutions in favor of choosing my 'word' for the year. Ali Edwards turned me on to this idea way back when and since then it's become my New Year's tradition. Pick a word, do it, live it. Sounds simple, right? Not always.
In 2010 my word was True. I had gone through a lot of life changes and needed to see and do things a little bit differently in my life. I needed to be 'true' to myself. And so I was.
In 2011 my word was Focus. Stay focused, stop taking on more than I can chew, focus on what's important. And focus52 was born! And then life threw me a few nasty curveballs in the form of The Big C, and staying focused took on a whole new meaning.
In 2012 my word was Strong. Obvious reasons there. And I was. I AM.
This year, 2013, I choose the word SHINE.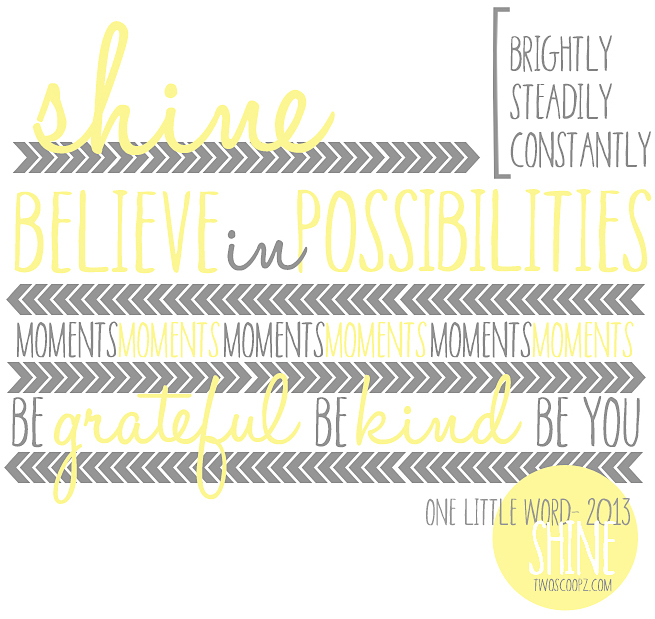 A whole lot of words jumbled up in there, and each one means something special to me. Designing this little poster today was calming, yet purposeful. It's a  glimpse of the woman I strive to be. Have you chosen a word for yourself this year? I'd love to hear it.
_____________________________________________________________________________________

You can find my 365|2013 project on flickr. For all daily photos posted here, check 365-2013 in the category list in the sidebar to the right. Want to be instagram friends? Look for jan_twoscoopz and come and play!