10 Jun

focus52|2012 {week twenty-four} june 10 to june 16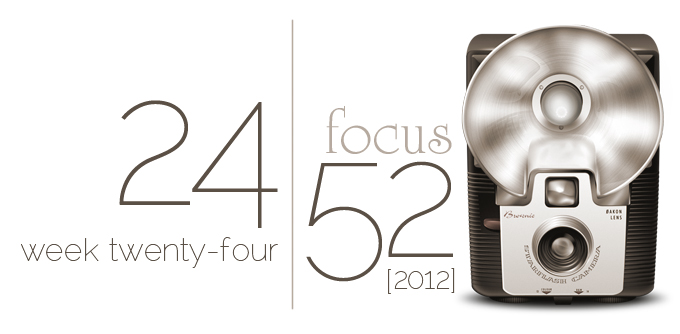 Welcome to week twenty-four, 52'rs! Have you gotten up off the floor and dusted off your knees from last week's prompt? I hope you had fun with it. I've seen a lot of great posts in the flickr pool and here on the blog. I'm curious – did any of you try the shooting blind method? If you did, I'd like to hear about it in the comments! I swear, you guys are such a quiet bunch :)
This week, we're going to have a little bit of fun with a great location …

I see you scratching your heads. "What the hell is she talking about now", I hear you saying it. But let me tell you, window light is some awesome light. Honestly. I want you to find an object, something pretty (or not) and put it on your windowsill and get out your camera. Yep. You're going to love the light, trust me. Now, saying that though, you DO have to be careful. You don't want to be trying to take a photo with the sun beaming straight in your window. A little bit of diffused (my photo above has lovely shrubs outside to block some light) or indirect light is best. All of the rules of photography still apply here, so keep them in mind.
And windowsills are pretty! There are times when I'm taking shots like these that I long for an old, chippy windowsill. If you have one, or know a location with one, I urge you to use it! Great visual interest, right there.
Now there IS room for play here.
You don't have to be literally right in in the window. Have a pretty window scene? Try a pull-back.
How about a person in the window? Maybe they're looking out, looking in, reading a book in a window seat, etc …
Try different times of day, see how the light falls on your subject.
Anything makes for a great subject – cup of coffee, florals (can never go wrong there!), fruits, vegetables, jars (great for reflecting light) … you get the idea.
How about some curtains, billowing in a breeze? Catch the view with a portion of the windowsill and some great light and you'll have a gorgeous photo.
Tons of ideas with this one if you give it a bit of thought. And a great chance to practice your exposure skills. Keep an eye on your settings and watch those blown-out bits, you guys.
Whatever you decide to do this week, follow the prompt or no, come back here and link up your work when you're done (weeks run Sunday to Saturday, don't forget!). Links must be to the direct URL of your actual work, not just to the site it's posted in, and may be a link to your blog post or to your flickr photo (again, the actual photo, not your entire flickr stream). Also, please don't link and run – try to find some time to visit at least a few of your fellow 52'ers. That's half the fun! It's a fact that those who link up early, get the most interaction on their work. Truth.
And don't forget the flickr pool!
Have a great week, 52'rs. Have you 'liked' our new FB page yet? :)