18 Dec

warm glow

From Picture The Holidays,
Nothing beats the warm glow of candlelight. There is something so sacred about lighting a candle, especially during the holiday season. Today, capture the glow of a candle. You do not have to wait until dark to light up the dark! Candles are for anytime.
This candle sits on the table behind my couch. Once in awhile, I'll pick up my useless bl*ckberry camera and point it at something, and once in awhile, I'm pleasantly surprised with the results.
I love the light flares the candle wicks were throwing off. Fun!
Santa? Are you listening? i*phone, i*phone, i*phone … :)
Pretty please.
(FYI – asterisks in this post are to keep the lovely spambots at bay … in case you were wondering)
—————————————————————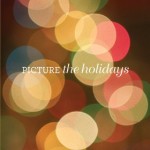 PICTURE THE HOLIDAYS with Tracy Clark and Paper Coterie: 31 days of seasonal photo prompts to inspire your creativity. Find out more here.
This post is a portion of my focus52 project, hosted right here at twoscoopz! Visit or join the focus52 flickr group here. My own focus52 project can be found on flickr here or by clicking 'my f52' in the category list to the right.