06 Dec

every little thing

Today's challenge was to open your eyes to the little things around us. The things that often go unnoticed.

You all know I love doing that :)

From Picture The Holidays:
Begin this day with eyes wide open to the tiny wonders that are constantly swirling all around you. Even at the most ordinary time of day, while doing the most mundane tasks, little moments of enchantment will reveal themselves. Find some small delight today.
This is my crabapple tree, whose so-called 'apples' look more like teeny cranberries.
And finally … some snow! I waited all day yesterday for the endless rain to turn to fluffy snow, in light of the 'view from here' prompt. I finally gave up and took a shot of my Christmas tree instead, and as I was literally uploading my photo for the day, yep – it started to snow. Evil Mama Nature.
This morning was a virtual winter wonderland and I really, really hope it sticks around this time.
Christmas isn't Christmas without snow in these parts :)
—————————————————————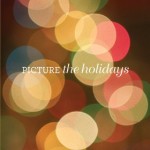 PICTURE THE HOLIDAYS with Tracy Clark and Paper Coterie: 31 days of seasonal photo prompts to inspire your creativity. Find out more here.
This post is a portion of my focus52 project, hosted right here at twoscoopz! Visit or join the focus52 flickr group here. My own focus52 project can be found on flickr here or by clicking 'my f52' in the category list to the right.